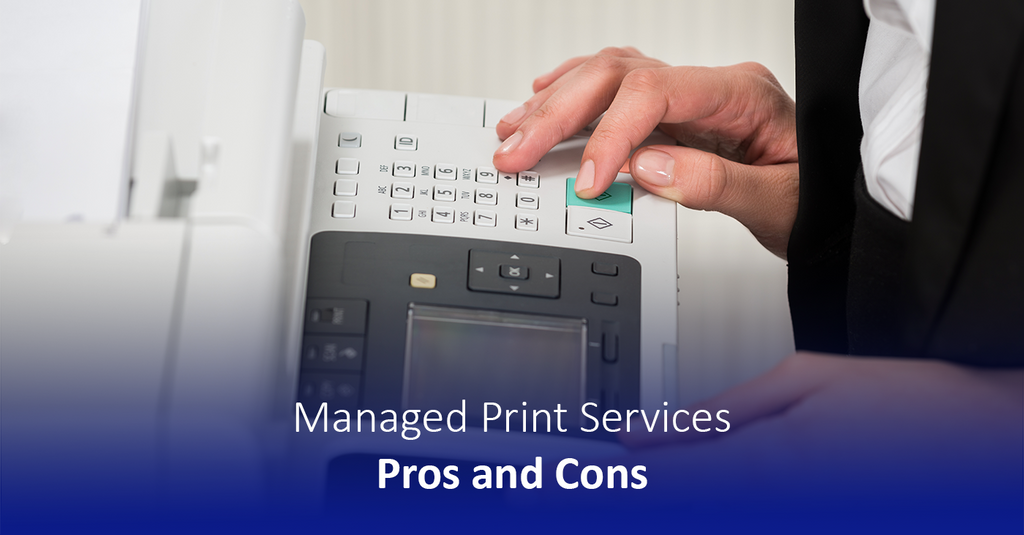 Managed Print Services Pros and Cons
---
Printing costs are an often underestimated expense in modern businesses. The reality is, though, that printing costs in businesses of all sizes can quickly become excessive. Thankfully, there's a solution called managed print services (MPS) that enables you to drastically cut printing costs for your customers while enjoying several other significant benefits as well. 
Below, we'll take a look at some of the top pros and cons of MPS to help you decide if managed print services is an ideal solution for your customers. 
The Pros of Managed Print Services
Managed print services offers a number of unique advantages, particularly to companies that do a lot of printing on a regular basis. Some of the pros of MPS include:  
Cut Costs - MPS enables you to reduce the amount of money your business spends on printers and printing supplies by optimizing the printing processes within your company. An MPS provider will work to analyze your business and its printing needs then provide you with exactly the right equipment and the right amount of supplies to get the job done. By keeping your business from wasting money on excess printers and supplies that it does not need, MPS can lower your printing costs dramatically over the long run. 
Reduce Your Environmental Impact -

 

Cutting back on wasted supplies not only helps you reduce your printing expenses, it will also reduce the environmental impact of your business as well. Paper, ink cartridges, and the packages that they are sold in impact the environment in a number of ways, requiring resources such as timber to produce and adding to landfills when they are discarded. By making sure you use as little printing supplies as possible, though, MPS can help your business be more eco-friendly.
Remote Printing -

 

Working with an MPS provider will give you the ability to control your fleet of printers remotely using a smartphone or any other internet-connected device. The ability to manage your printers remotely in this way can be very useful when you are traveling or otherwise away from the office. 
Improve Security - Having a confidential document fall into the wrong hands is a serious concern for many businesses. MPS, however, is able to help you reduce the risk of this happening in a couple of key ways. For one, your MPS provider will be able to equip your printers with built-in authentication protocols that ensure only authorized users are able to access them. An MPS provider can also encrypt the data on your devices to further ensure that your confidential data is only accessed by authorized individuals within your company. 
Ongoing Maintenance - With MPS, you don't have to worry about maintaining and repairing your fleet of printers. Your MPS provider is responsible for keeping your printers maintained and updated, taking the responsibility out of the hands of you and your employees. This means that your printers will always be functioning as they should and you'll never have to worry about your business being interrupted by malfunctioning equipment. 
Cons of Managed Print Services
While MPS offers a number of significant advantages, there are a few challenges associated with MPS that need to be considered as well. Some of the cons of managed print services include:
Upfront Costs

 

– In a few cases, the initial investment of MPS can sometimes be overwhelming. In some MPS engagements, an investment in new hardware is required to bring better efficiencies and long term costs savings. However, this may not be the case for most companies. Printer fleets will be organized around current devices with a possibility of adding and removing a few of the devices. If your company does not print enough to justify an investment in MPS, you may be better served by outsourcing occasional large printing projects to a professional printing service rather than investing in MPS.
Employee Productivity - Rather than having a printer at the desk of every employee, MPS typically relies on a centralized printer. This requires employees to get up from their desk to collect copies, which some argue causes a disruption in employee productivity. 
Security Concerns - On the whole, MPS is more secure than traditional printing solutions since the printers can be encrypted and equipped with built-in authentication protocols. However, having a main printer in a centralized location rather than a printer at the desk of every employee does create a slight security concern of its own seeing as printed documents will be accessible to anyone in the office. 
Conclusion
For companies that do a lot of printing, MPS can be a great solution to help them cut costs, reduce their environmental impact, improve their security, and more. In the end, deciding whether or not the pros of managed print services outweigh the cons is up to you and the specific needs of your company. In most cases, though, MPS is going to offer a clear advantage over traditional printing solutions.